have the facilities to use your images to enhance your website or to produce high quality images onto CD for you.
Using a professional specification Minolta 35mm transparency/negative scanner we can produce high quality images onto CD for you. Choose from several formats including JPEG, TIFF, GIF, BMP with a resolution up to 2438 dpi which produces publication quality images of up to 8 Megapixels and TIFF file sizes of up to 49MB.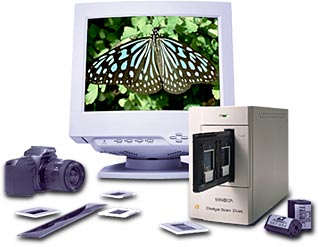 | | |
| --- | --- |
| 1-12 images per session | €2.50 per image + €1 for each CD used |
| 13 - 24 images per session | €2.30 per image + €1 for each CD produced |
| 24- 36 images per session | €1.99 per image + €1 for each CD produced |
| Larger orders | Contact us for a quotation |
Important Notice
We will NOT arrange for undeveloped films to be developed by ourselves. All film sent to us MUST already have been developed.

Any material of a paedophilic nature will be reported to the authorities and material which may be illegal under European law will be refused for processing.

ALL material will be returned to you after processing and NO copies of the material will be held by AegeanSoft after processing.

All scans of images will be deleted from our systems once burnt satisfactorily onto CD.
We can also scan colour photographs, drawings and monochrome images up to A4 size to CD at the same costs shown above. The scanner is capable of interpolating up to 9600 dpi to enhance even the smallest original images.
All images can be modified and enhanced using the latest software and can be treated with a variety of special effects if required.
We can 'watermark' your images digitally using hidden DigiMarc® coding so that they can be identified as being yours, even if they have been altered and cropped. This means that the copyright of the image can be determined if it is illegally used on another site.